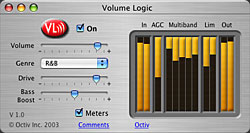 Volume Logic — the premier volume control audio plug-in for iTunes — appeared to stop working when iTunes 10.4 was released with new 64-bit support. Actually, Plantronics stopped supporting Volume Logic 4 years ago, but it kept on working fine – until now. However, it only appears to not work – it's actually still there and working in the background in OS X Leopard (or Snow Leopard if you Get Info for iTunes and check Open in 32-bit mode). It's just that iTunes is not allowing you to see the window. Duh!
I was a beta tester for Volume Logic in 2003 when it was first released by Octiv, before Plantronics bought them.
There are two solutions: make the Volume Logic window display again, or replace it with a new plugin.
Fix for Volume Logic
Quit iTunes.
Look in ~user/library/preferences and find com.octiv.VolumeLogic.plist
Open it with TextEdit and change this value:
<key>WindowOpen</key><false/> to <key>WindowOpen</key><true/>
Select the file in the Finder and Get Info command-i. Under "General", checkmark Locked to prevent iTunes from overwriting your edit (because each time you quit iTunes, it wants to revert the file).
Launch iTunes.
Do not close the Volume Logic window! If you do, the only way to reopen it is to quit and relaunch iTunes. It can no longer be opened using the shortcut listed under iTunes Window menu. Also, Volume Logic no longer responds to keyboard inputs – you have to use the mouse to adjust settings.
The Volume Logic window will now be displayed again. Tah dah!
---
Replace with free Plugin + Audio Hijack Pro
If you cannot make this fix work or don't own Volume Logic, there is an easy replacement using Audio Hijack Pro and the free AU (Audio Units) & VST plug-in called LoudMax – a "look-ahead" brick-wall loudness maximizer (limiter) with clean, transparent sound that does not distort, even at high compression levels. It has very low CPU usage and was designed to retain the original character of the music as much as possible. It does everything Volume Logic did, minus the Multiband DSP (which "colored" the sound), so that part is not really missed. LoudMax is used in Mastering and as an output limiter/maximizer for internet radio stations.
Install the LoudMax.component (or LoudMax.vst) here:
Library/Audio/Plug-Ins/Components (or Library/Audio/Plug-Ins/VST)
In Audio Hijack Pro, select iTunes from the left column, then open the Effects tab and insert the LoudMax.component (or LoudMax.vst plugin).
Press the LoudMax Editor button:

Set the LoudMax Threshold to suit (e.g. -6.0 dB)
Set the LoudMax Output to perhaps less than zero (e.g. -0.1 dB)

Hijack iTunes audio.
If you like, you can keep the LoudMax plug-in visible (click it's Editor button to open), then Hide command-hAudio Hijack Pro for a clutter-free desktop.
You can use this with iTunes "Sound Check" enabled, as that may help get your song volumes in the ballpark, especially if you've already processed your songs with iVolume — decide for yourself.
You are now leveling the volume of all your songs automatically! That's it! Enjoy!
What's interesting about this solution I discovered is that RogueAmoeba had actually licensed it's audio hijack technology to Octiv when they originally created Volume Logic for iTunes! So we've come full circle.
Video: LoudMax Limiting iTunes Volume