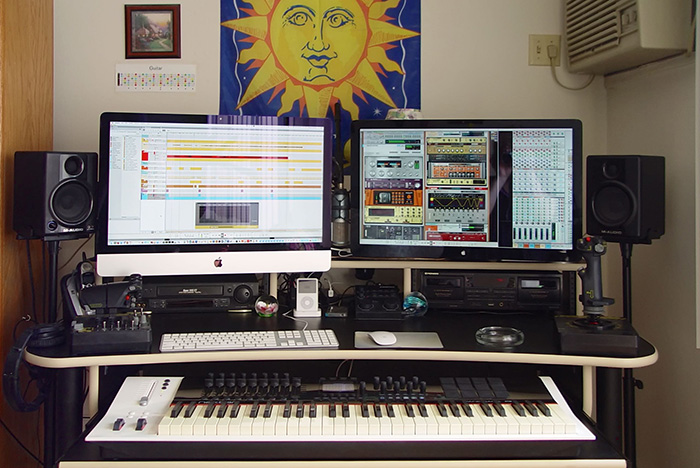 Fender Stratocaster, Nektar Panorama P6 keyboard, Propellerhead Balance + Reason 8, Ozone 6 Advanced, Logic Pro X, AKG mic.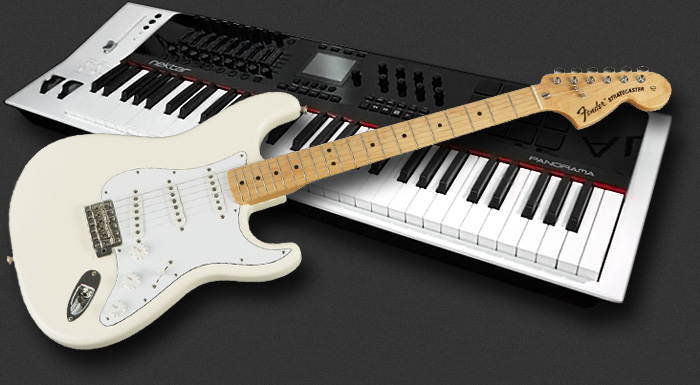 Reason is a virtual studio rack and MIDI sequencer from Propellerhead Software. Instead of tons of outboard gear, all sound sources have been virtualized inside the program. Not only does it record the MIDI notes, it is also all the instruments themselves. You no longer need to buy multiple keyboards, synthesizers, samplers, drum machines, or effects processor. It's all built into Reason. This became possible after microprocessors finally were fast enough to handle the enormous processing involved. Modeling reverb in real time is the most intensive, but virtuallizing all the devices also adds to the load.
So what's in the rack? Well, you get to decide for any given song. In addition to included instruments and effects, there are many Rack Extensions (RE) available from the Prop Shop. You can have as many instances of any of these devices as your computer can handle: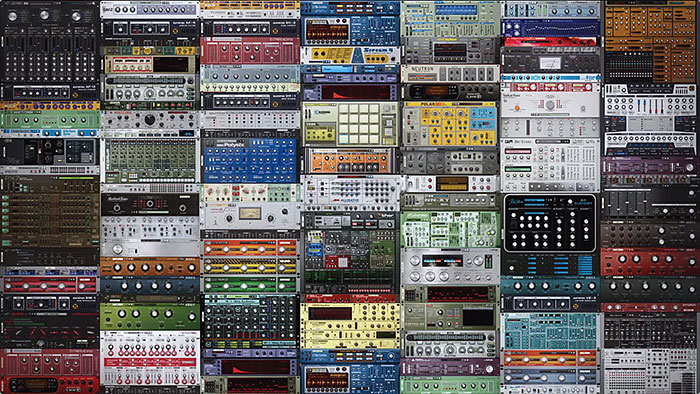 Reason 7
Reason 7 is the latest version from Propellerhead Software. Reason integrates real-world digital recording into Reason, making it a true digital audio workstation (DAW). It also introduces several cool effects: Neptune Pitch Adjuster, Pulverizer Demolition, Alligator Filter Gate, The Echo - and some new instruments: Kong Drum Designer, Dr. Octo Rex Loop Player, and ID8 Instrument Device. One of the coolest features in Reason is the mixer, modeled physically and sonically after the legendary SSL 9000 K Analogue Mixing Console. Many great music hits from the 80's and beyond have been mixed on the SSL. It brings a whole new level of ease and professonalism.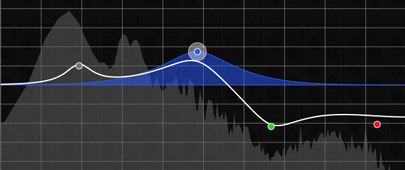 Reason 7 adds a Spectrum EQ that displays and adjusts the SSL EQ section for any channel and the Master. You can see the individual and combined EQ curves and the resulting spectra. It also adds Parallel Channels and Group Busses – the secret weapon of many mix engineers! A welcome addition is the new REX-style slicing of audio for quantization, stretching, or import into the Dr. OctoRex loop player. With the many Rack Extensions (RE) available, Reason has become the in-the-box music-making software of choice for many musicians. Major recording artists use Reason. Several users have jumped ship from Pro Tools, Cubase and other DAWs and do most if not all of their compostions in Reason.
Reason is my main music creation software. It's quite capable of doing everything. For general album balancing, leveling and mastering, I use Ozone 5 Advanced (plug-in) in Reaper (host). But many are using Reason only.
Download wallpaper:

record-mixer-16-1920-1200.jpg
484.15 KB